Why do people do make the life decisions they make? Why somebody decides to become a revolutionary and another a dictator? Why some people become doctors and go to Haiti to cure AIDS and others become Kenneth Lay?
After watching Walter Salles' The Motorcycle Diaries I couldn't stop thinking about empathy, compassion, and revolution.
The empathy continuum – One could describe empathy as a two-dimensional continuum: on one axis the distance between the subject and the objects of his or her empathy; on the other the intensity of the feeling.
On the distance dimension of the empathy continuum, one extreme is occupied by people who care only about themselves and show a total disinterest for the suffering of others. It might be an emotional failure of empathy (I don't realize you are suffering) or just cold and calculated reasoning (I know you are suffering, but I don't care, and I will happily take advantage of your suffering). Think, for example, of sociopaths, dictators, and some politicians.
In the middle, there the common range of empathy, first for the people that are closer to us and then for people that are progressively far from us (my family, my friends, people who are like me, people who are not like me but I can bear, etc.). This is where most likely you'll find you and me.
At the other extreme there is the christian or buddhist ideal of compassion, which includes not only me and the people I love, like, or admire, but also my enemies and the people I hate and despise. Think, for example of saints and mystics.
At each point of the distance axis, empathy can manifest itself with more or less intensity. How strong is the feeling? How much is one willing to give up to reduce suffering of others? Would I risk my life to save somebody else? Would I give up my house and possessions? Would I just donate some of my money? Or would I just ignore it?
Empathy, compassion, and revolution – In 1952, Ernesto Guevara de la Serna leaves his sheltered Buenos Aires life and goes on a motorcycle trip across South American with his friend Alberto Granado. During the trip he sees first hand the suffering and injustice that plague his continent. Saying that he sees the suffering is misleading, though; Ernesto seems to experience the suffering of the poor, the sick, and the dispossessed as his own suffering and at the end of the trip he finds himself unable to go back to his previous safe life and to ignore what he had experienced.
Ernesto's empathy is the feeling of unity with the oppressed; it lacks the universality of compassion but it possesses a powerful intensity. He doesn't feel empathy for the oppressors and is not interested in finding common grounds with them, but he is ready to give up his privileged life to save the less privileged. He is ready to take arms against the people in power to make a better world for the people who are now oppressed. For him, revolution is the necessary expression of his empathy; being a doctor would have allowed him to save people one at the time, but it won't have touched the fundamental cause of suffering and oppression. Being part of a revolution gave him hope that the conditions that create oppression would be eradicated together with the causes of unjustified suffering.
Based on distance and intensity of empathy, one could build an empathy profiles for Ernesto Guevara, that might look something like this: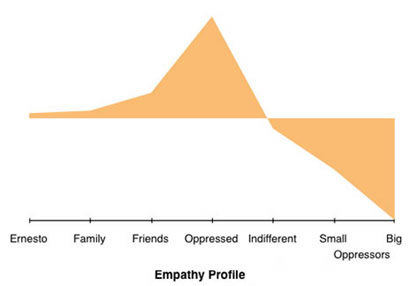 He has some empathy for himself and his family, even more for his friends, and high level of empathy for the oppressed. He probably slightly despises people who are indifferent to the suffering of others, and has an intense "negative empathy" for big and small oppressors.
Regardless of whether Ernesto Guevara was right or wrong, anybody who is seriously in the business of relieving suffering finds oneself at some point wondering about the relative value of local intervention versus social change. Physician and anthropologist Paul Farmer founded Partners in Health and built hospitals in Haiti and in other countries that are a miracle of minimalist health care effectiveness (Mountains beyond Mountains, Farmer's biography by Tracy Kidder is a great reading). Dr. Farmer believes that the spread of epidemic diseases such as HIV and tuberculosis shares the same social and political roots with the violations of human rights and that health care and social inequality are inevitably interconnected:
We can't disassociate ourselves from social justice movements. As physicians, this is a part of what we do.
(More about Paul Farmer: here and here [PDF].)
And so? – I was wondering how we would describe the emphaty profile of the United States. I am not thinking about an average empathy profile of the citizens of this country, but rather of the national profile as expressed by the political choices on social issues and international policy.
Katrina has made painfully visible how social inequality and neglect can make a powerful country vulnerable. Social policy decisions have increased exponentially the gap between the rich and the poor: lack of socialized health care (see Malcolm's Gladwell The Myth of Moral Hazard), erosion of necessary basic services, the refusal to increase the minimum wage, which keeps working people in poverty (and unable to afford health care), the social indifference for the personal and social devastation brought by the lack of a protective net to catch people from falling into misery (when people fall it's OK to help them with charity, but the efforts to prevent people from falling by building a safety net with tax money are not as appreciated).
But America, as any other society, is one. If the poor suffers, the rich is at risk. If the poor gets sick with infectious deseases that are resistent to medications, the rich is in danger too. Violence and crime will be higher the higher the gap between the different layers of society. The realization that everything is interconnected is the reason why Buddhism talks about compassion in such broad way (and so hard to accept: how can I have compassion for my enemies, the people that make me suffer, those I hate?). Would this country ever abandon the extreme worship of The Individual and become a society of interconnected beings?