I've been tagged by Nick Barrowman at Log base 2, with the historical figure meme. My mission, should I choose to accept it, is to pick a historical figure and list 5 random/weird things about this person.
I had to think really hard to pick my favorite historical figure. I don't think I can name my favorite ice-cream flavor, let alone a favorite historical figure. I thought about William James, because when he was at Harvard he was a buddy of Charles Pierce, which is the historical figure chosen by Nick.
But–sorry Bill–it ought to be a woman. A crowd of bad-behaved women came to mind:
I wonder why I thought of them. I suspect that it's because women need to be good to the point of sanctitude or quite bad to become historically famous. And bad girls tend to be more interesting.
So I picked the baddest woman on the block, Mary Jane West, know to the world as Mae West. I'm pretty sure she counts as an historical figure. She was born two centuries ago–exactly on August 17, 1893. And everybody who is still famous after so many years deserves her place in History, wouldn't you say? [or shall I say Herstory?].
If you think that Mae West got famous just because she was sexy, thing again. She became famous because she wrote her own material, both in Broadway and in Hollywood. Between 1926 and 1931, she wrote six plays that were produced on Broadway (Sex, The Drag, Wicked Age, Diamond Lil, The Pleasure Man, and The Constant Sinner) and she rewrote many of the scenes in her early movies, until censure got in the way.
After 375 shows, her play Sex was shut down because it was "calculated to excite in the spectator impure imagination" and Mae West was arrested for "corrupting the morals of youth." She spent 10 days in prison on Roosevelt Island and became famous. Mae West wrote about prostitution (Sex, 1926), homosexuality (The Drag, 1927), castration (The pleasure men, 1928), and interracial relationships (The Constant sinner, 1931), and she had to deal with censure and police many more times. For example, her play "The Drag" was closed after only 2 preview performances and the entire cast was carted off, some in full drag, in a police van.
When she starred in her first Hollywood movie, Night after Night, Mae West was already 40 years old.
She is the only actress to have her name featured in the Webster's Dictionary. A Mae West is "an unflatable life jacket, originally issued to pilots during World War II."
Mae West is famous for her double-entendres, so much so she once said "If I asked for a cup of coffee, someone would search for the double meaning." Among the most famous:

When I'm good I'm very, very good, but when I'm bad, I'm better.
I generally avoid temptation unless I can't resist it.
I believe in censorship. I made a fortune out of it.
Between two evils, I always pick the one I never tried before.
Love thy neighbor – and if he happens to be tall, debonair and devastating, it will be that much easier.

In a 1994 message to the Berkshire Hataway Shareholders, Warren Buffett quoted Mae West: "Too much of a good thing can be wonderful."
And so we remember you, Mae. Way too much of a good thing.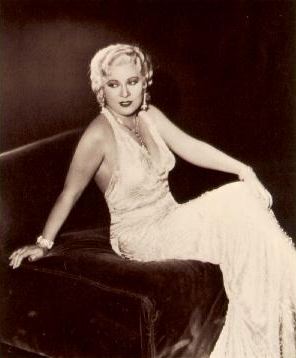 My turn to tag.
The rules of the meme:
Link to the person who tagged you.
List 5 random/weird things about your favorite historical figure.
Tag 5 more people at the end of your blog and link to theirs.
Let the person know they have been tagged by leaving a note on their blog.
And I hereby tag: